Why Should Anyone Choose CAD Services?
Why Should Anyone Choose CAD Services?
---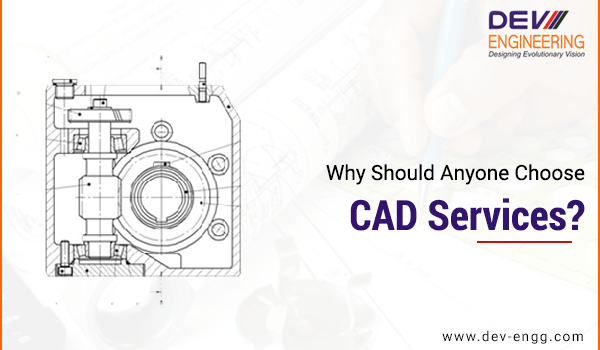 Computer-aided Design (CAD) is one of the prominent technologies that is used to design products, in which the process of design is documented. This has been helpful as manual drafting has been replaced with a fully automated process. The most used 2D or 3D CAD programs are AutoCAD and AutoCAD LT software. Wondering about the increase in the number of CAD services in India? There are a lot of reasons for the consistent increase in the demand for CAD services. We have made a list as to why architects, designers, and engineers consider CAD primarily.
Benefits of Choosing CAD Services
Some of the major benefits of implementing CAD have been listed below.
1. Effective Communication
CAD allows you to make intricate drawings and designs with a variety of tools available. This technology helps the designer to make fewer errors. The designing process is documented automatically with better clarity.
2. Enhanced Designs
Professional designers look at CAD software as a boon. A large number of tools make it easier for architects and engineers to design products as well. These tools help professionals to make more accurate designs, which lead to fewer errors and happy clients. Better designs also mean faster manufacturing.
3. Designers have an upper hand
Designer is the most creative person in any team and so, wishes to think creatively with the utmost freedom. The CAD software allows the designer to visualize, design and represent the product's design freely. Designs can be animated in the software, to show how it will work. In case changes need to be made, it can be done instantly. This way the designer achieves the best quality of the design within less period and in the budget.
4. Saved data of designs and drawings
One of the best features is to be able to reuse the data of the designs and drawings for reference in the future. This saves designer's time, as they need not recreate or design the common elements from earlier projects. These designs can be saved individually at any point of time, as well as many more copies of the same can be made as per requirements. The graph of CAD services in India has been going up and now we know why.
If you have any doubts related to CAD software, reverse engineering, product designing, 3D printing, etc, feel free to approach DEV Engineering. We are also known as a well-known product design company in India. Our young workforce will be more than happy to help you grow your construction business.
OUR SERVICES

---

CONNECT WITH US

---